Blog
Monuments Men: From the Front Lines
---
Monuments Woman Anne Olivier Bell Turns 100!
Mon, 20 Jun 2016 06:00:57

Today is the 100th birthday of Anne Olivier Bell, one of just two living Monuments Women. Following the end of World War II in Europe, Anne was commissioned as a Major in the British Army and reported for duty to the British Monuments, Fine Arts & Archives headquarters in Bünde, Germany. There she coordinated day […] Read More...
---
Memorable weekend in Fort Meade with the 352nd Civil Affairs Command
Tue, 17 May 2016 16:08:51

I've had many memorable experiences during the past thirteen years researching and writing about the Monuments Men and women, but few compare to my trip to Fort Meade, Maryland, to spend time with the 352nd Civil Affairs Command on the occasion of their 50th anniversary.  Civil Affair soldiers are doing remarkable work in conflict zones […] Read More...
---
The Islamic State's Murder of a Modern Day Monuments Man
Tue, 25 Aug 2015 16:20:44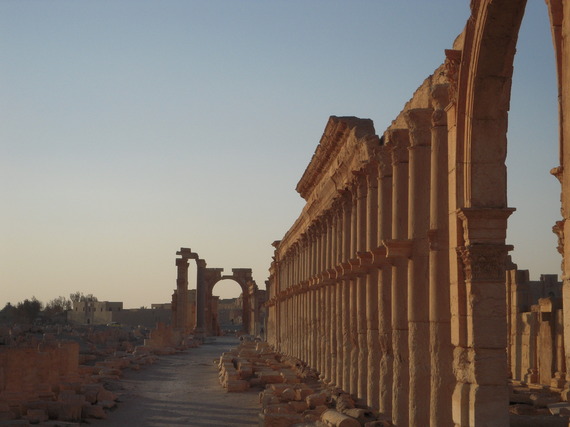 (As posted on www.HuffingtonPost.com on Aug 21, 2015) Khaled al-Asaad, 83-year-old retired Syrian archaeologist known admiringly as "Mr. Palmyra" for his extraordinary knowledge of that revered 2,000 year-old Roman era city, has been killed. Jihadists of the Islamic State publicly beheaded al-Asaad, and then hung his body by his wrists from a traffic light positioning […] Read More...
---
Happy Birthday to Monuments Man Rouben Sami!
Sat, 15 Aug 2015 10:45:36

Today, I'd like to wish a happy 94th birthday to Monuments Man Rouben Sami! I was privileged to meet with Rouben and his wife Lee at their home in Florida just this past year, the 21st? Monuments Man I've met and interviewed during my many years of research. His recollections about the work he did […] Read More...
---
Monuments Man Lennox Tierney passes away at age 101
Thu, 18 Jun 2015 17:05:08

Monuments Man Lennox Tierney has died, age 101. Only five Monuments officers are still living.  Of the twenty Monuments Men and women I have interviewed, only Tierney and Sherman Lee had served in the Pacific Theater, primarily in Japan. Fluent in Japanese, and a greater scholar of Asian art, Tierney was assigned to General MacArthur's […] Read More...
---
Eight Years Honoring the Heroes!
Sat, 06 Jun 2015 15:57:03

Eight years ago, on the 63rd anniversary of the D-Day landings, I announced the formation of the Monuments Men Foundation for the Preservation of Art.  Four Monuments Men participated in that ceremony.  Today only one of those four is still with us bringing the number of living Monuments Men and women to just six.  We […] Read More...
---
Good morning! Buongiorno! Guten Morgen! Bonjour!
Wed, 14 Jan 2015 16:16:52

Good morning! Buongiorno! Guten Morgen! Bonjour! I am proud to share with you that our Monuments Men Foundation website is finally available in four languages: English, Italian, German and French.   I hope that this will allow more people around the world to understand the heroic work of the Monuments Men during and after World […] Read More...
---
Support the restoration of the Canonica di Belforte!
Thu, 13 Nov 2014 20:18:23

Dear Friends, Help me support the restoration of the Canonica di Belforte in Italy! We have only until the end of November to show our support. The Canonica di Belforte is in urgent need of restoration. If you've read my last book Saving Italy then you will remember the "Flying Priest" Don Guido Anelli. The […] Read More...
---
Monuments Man Horace Apgar 1923-2014
Tue, 07 Oct 2014 19:40:26

We are all saddened to learn that Monuments Man Horace Apgar has died.  Our long held hope was to see him standing aside the other Monuments officers at Congress in 2015 to receive the Congressional Medal of Honor.  We have done everything in our power to not only obtain this richly earned recognition for the […] Read More...
---
The Field Report: Week of July 25, 2014
Fri, 25 Jul 2014 16:56:58

On this week's Field Report: 1.) It's the case of the "Parrot Lady". India is currently trying to figure out how this voluptuous statue ended up continents away (The Economist) 2.) A 54-foot-tall duck sculpture has vanished following flooding in China's Guiyang city (Blouin) 3.) South Korea and the U.S. agree on cooperation in return of […] Read More...
---